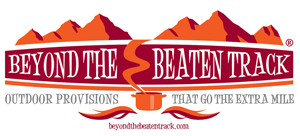 Outdoor Provisions that go the Extra Mile – Beyond the Beaten Track
The Beyond the Beaten Track core team is made up of group of fun foodies who have a passion for living life outdoors! Together they have climbed mountains, run marathons, skied, hiked, backpacked and travelled around the world!
Their quest for adventure started at an early age, when they became members of youth organisations such as the Scouts and Girl Guides. From here they went on to become the sole supplier of operational ration packs for the British Armed forces.
Drawing from all this wealth of experience and expertise the meals have been created to bring a variety of high quality, nutritional, ambient, long shelf life food products to you the consumer. Their meal solutions have been designed to fuel you for some of the most challenging environments & extreme adventures.
When it comes to adventure nutrition or emergency preparedness, many people are turning to Beyond The Beaten Track products, because of their taste, quality and convenience. They are proud to include customers like the Project X Adventures, British Antarctic Survey, Urban Search and Rescue Teams and actively support organisations as part of, such as The Duke of Edinburgh's Award, Scouts and Outward Bound.
No products were found matching your selection.