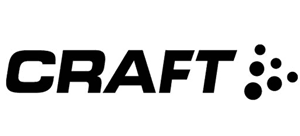 Craft – A Good Idea Stands the Test of Time
Craft has been created through sweat and pain, of snow and rain, of falling and rising, and the euphoria experienced when pushing endurance limits. For forty years, the name of the Swedish company's game, has been the provision of optimal performance through functional sportswear. Crafts expertise in designing sport-specific equipment and clothing for optimal function comes largely from a long and fruitful collaboration with elite athletes across the globe.
In theory, they aim to be the number one premium brand in functional sportswear. In reality, they live to boost your sport experience. This ambition and this drive merge into their daily lives where they dare to think unconventional and refuse to compromise in order to reach our goals. They love function, innovation, design and fashion – and to combine these ingredients and turn them into sportswear that optimises the performance for athletes on all levels. Uniting this devotion with a profound enthusiasm for all things sports, their work is also their passion.
No products were found matching your selection.