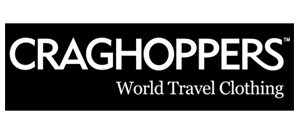 World Travel Clothing – Craghoppers
Make sure you are prepared for your next adventure with Craghoppers Clothing. They have been designing outdoor clothing and protective travel equipment for over 50 years now. They are constantly changing their products with the trends and technologies to provide the highest quality, stylish outdoor clothing. They pride themselves on their fabrics and the technologies behind them, to offer the very best protection from the elements.
Quality is key – which is why all of their outdoor clothing and equipment is guaranteed for life.
They offer a wide range of clothing including insect repellent trousers, UV protective shirts to lightweight and functional clothing. Craghoppers have worked with explorers and adventurers for decades, meaning they know exactly what you'll need when it comes to world travel necessities.
£

18.95

This item is currently not available for next day delivery.

But order now for free delivery within 2 - 10 days.