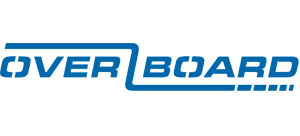 OverBoard – Keep it dry!
"The Dan and Joel commitment has been simple – to combine good looking, high quality value-for-money gear with 100% waterproof protection."
It all began back in 2006 on the Phi-Phi islands in Thailand. Friends since university, Dan and Joel, decided to travel for six months on an epic beach, boat, surf and diving holiday. For weeks they fought to keep their iPods, phones, cash, passports and important stuff dry. And that's when it struck them; what they needed was a functional waterproof bag that could protect their things without slowing them down.
Back home, even before the tans had faded, they were researching, designing and producing their first waterproof prototypes – the perfect dry bags and their first OverBoard products. The response from friends, family and a growing band of customers was extraordinary so the range just had to grow. More colours, sizes and individual water-tight protection followed, defending everything from phones and iPads to emergency supplies from water, snow, dirt and sand.
Fast forward to today, they are the leaders in waterproof bags and cases with customers and distributors in over 70 countries across the globe. Wherever you go, whatever you do, there's an OverBoard 100% waterproof product for you.
£

12.50

2 available for despatch today!

Order before 4pm today for expected delivery on Saturday 5th December 2020.