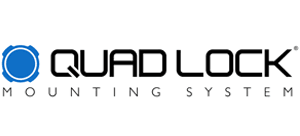 Quad Lock – The Lightest, Strongest, Most Secure Mounting System
If you own a smartphone you'll know how handy it can be to look up a location and be guided there with audio and visual directions. This is great when walking or driving but what if you're riding a bike? If you've tried you'll know it's very difficult to pull the phone out of your pocket every time you need to check you're still going the right way. It can also be downright dangerous for your smartphone if you lose your grip in the process.
Quad Lock, as it's called due to the four tabs which are integral to the patent-pending system, is a unique solution which allows you to securely and conveniently attach your smartphone to your bike, car, or arm and that's just the start of the many mounting options available.
Visit their website here…
No products were found matching your selection.