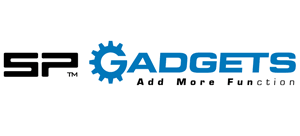 SP Gadgets – Add More Function
SP Gadgets take quality assurance seriously. Their team are constantly exploring new equipment ideas, which they then carefully manufacture for you.
Since its establishment SP Gadgets has become synonymous with the most advanced, cutting-edge products for the sports and electronics industry. "SP" stands for Smart Performance – and that's their mission: to design the best accessories for your GoPro or other action camera and smart phone so you can get the best performance. Their products range from: Cases, Poles, Grips, Electronics (such as lighting, batteries and remotes), and of course Mounts! They specialise in their Floating Section Systems and Smart Mount Systems – to keep your GoPro floating, when you're not, and poles/mounts that you can easily attach your remote to!
£

49.99
The amazing value SP Gadgets Action - Bundle has been put together for all adventure lovers out there, with the POV Storage Case and POV 19 inch Telescopic Pole included!