---
Doing your D of E expedition is hard work, whether you are walking, cycling or boating, you will push yourself 100%, your motivation and body. That's the whole idea! So making sure you fuel your body is the key to completing whichever level you are undertaking. You'll be burning calories fast, so you have to keep on eating during the entire day. It's key to replenish these calories before your body gives up.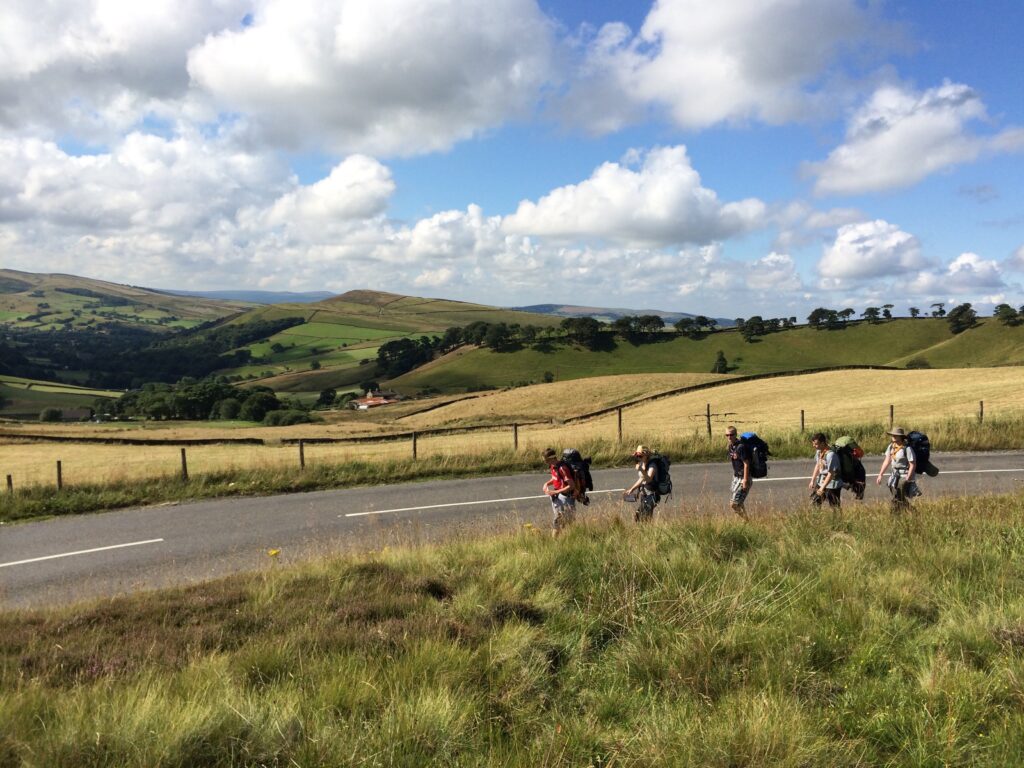 When you begin to plan your D of E meals and snacks there are a few things you need to keep in mind:
1. Keep it simple!
When you are planning and shopping for your meals, remember to keep it simple and easy. After a long day walking, you won't want to spend hours cooking a meal.
You want to consider what your whole team likes in terms of flavours and adapt your meals to cover any dietary requirements. When I was doing my DofE, my group found it easy to make our meals fit with all of the different flavour and allergy requirements. It meant we only had to cook one version of each meal. It was a small compromise which saved us a lot of effort and time.
One way to keep it simple is by substituting one or more meals per day to expedition meals. This is an easy trick which can save you time and energy cooking, allows everyone to pick a meal that suits them and reduces any wasted food.
2. Only carry light food!
When you are planning your menu, don't focus on just the food you love. It is super important to remember that whatever you are going to eat, you need to be able to carry!
On my first D of E expedition, I thought I had the best idea ever – carry a 1kg jar of Nutella! Obviously, I learnt about lightweight food the hard way, because within the first few kilometres I realised how heavy my bag was!!
When planning and shopping, be on the lookout for foods that don't come in tins or jars, and foods that come in lighter packaging. I recently discovered beans in plastic tubs and super-concentrated fruit squash – both are the perfect size to fit in your bag, don't weigh too much and taste good!
A good trick when it comes to reducing the weight of your food is to portion everything out into sandwich bags. This helps you carry exactly what you need (plus your emergency rations) and helps you to reduce the weight of you pack.
3. Reduce the number of perishable foods you take!
Whilst you are on your D of E expedition, whatever way of travelling your choose, your bag will get warm, it's hardly a fridge! Usually, D of E groups take fresh food, like sausages, fruit, cheese, ham, for the first day. After that, the food will have been out of the fridge too long, and it's not safe to eat.
Foods that can be stored at room temperature:
Chorizo/cured meats
Instant noodles
Pasta and stir in sauce
Pouch foods – beans/lentils/rice/ready meals
There is so much choice for snacks and meals that will fill you up, boost your energy and won't make you ill.
Which ever method of travel you choose for you expedition, it's likely your bag will get warm – especially in the summer months. The longer your expedition, the more you should consider avoiding perishable foods (foods that require to be refrigerated).
I like to recommend to groups to take fresher food for the 24 hours of the expedition like; sausages, bacon, fruit, cheese, ham, veg. After 24 hours, it's best to aim to plan meals using more store cupboard items instead.
Good Store Cupboard Foods for DofE:
Food Pouches – Beans, Lentils, Rice, Tuna
Instant Noodles/Pasta
Pasta and Stir in Sauce (Avoid jarred sauces though)
Rice, Instant Mash,
Cured Meats and Cheeses, like; Chorizo, Salami, Cheddar
Expedition Meals
Expedition meals are a very easy and safe way of carrying food for longer expeditions. They are packaged in a way that gives them years before they are out of date.
Let's start with breakfast…
The most important meal of the day, to help start your day off with a kick you 100% need to eat breakfast. My favourite D of E expedition breakfast is porridge. Split oats and powdered milk into sandwich bags, 1 bag per day. I like to added extra things into each bag of porridge to make it a more exciting meal, you could add things like: cocoa powder, cinnamon and sugar, dried fruit, chocolate chips, nut butter.
Here's a rough recipe to help you out: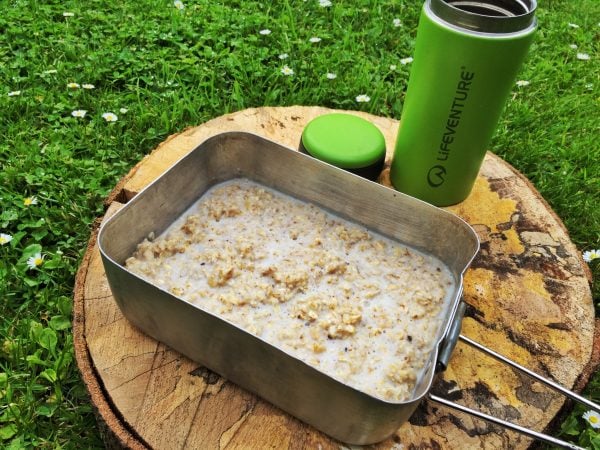 Expedition Porridge (makes one serving)
50-70g Oats
40g Powdered Milk (optional)
Dried fruit/cinnamon/sugar/cocoa/nuts/nut butter (you get the idea!)
Sandwich bag (use a sandwich bag per day to make it super quick and easy!)
Mess Tin
Hot Water
– Mix all the oats, milk powder and anything extra you want, in a sandwich bag. Tie it up and store it easy in your bag.
– In the morning, boil about 400-500ml water in your Trangia.
– Whilst it's boiling, put the contents from your sandwich bag into your mess tin.
– Add your boiling water, give it a good stir and leave to stand for around 5 mins.
– And Enjoy, simple and quick!
Lunchtime!
Try to keep your lunch easy and low effort. You don't want to be cooking a meal in the middle of a forest or on a hillside with your Trangia!
Here is a quick list of lunchtime favourites:
Wrap – these are great, they are impossible to squish and fill you up.
Squeezy chocolate spread/jam – usually the squeezy containers are much lighter than a jar! These surprisingly go well with wraps too!
Instant noodles/pasta – if it's cold, these can really lift your spirits and warm you up. They are super light and aren't hard to cook.
Cuppa Soup – this is the same as above really.
Cheese/ham/fruit – these don't last too well in a hot bag, so take these for the first day and try the above for the extra days.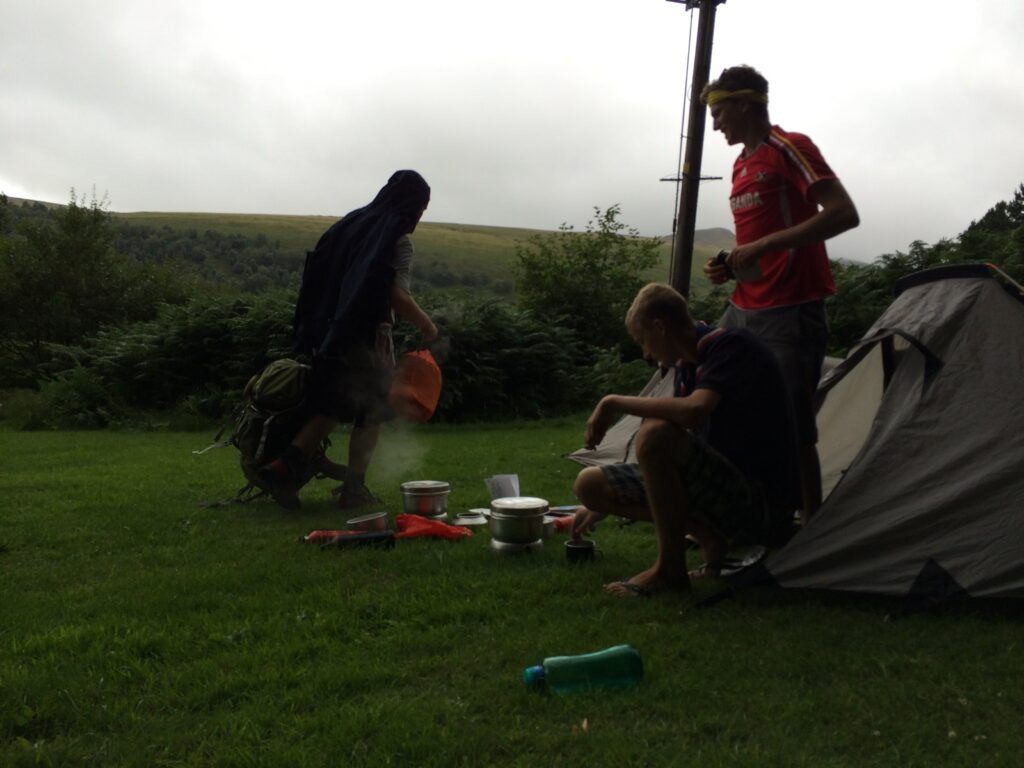 Dinner!
Dinner should be an enjoyable, filling meal you can relax with after a hard day on your D of E. You could cook a meal from scratch or use expedition meals.

If you decide you want to cook, here are a few ideas:
Couscous and veggie stew
Tuna and sweetcorn pasta
Instant Mash and Chilli beans
Chorizo and beans pasta
Or you could try expedition meals.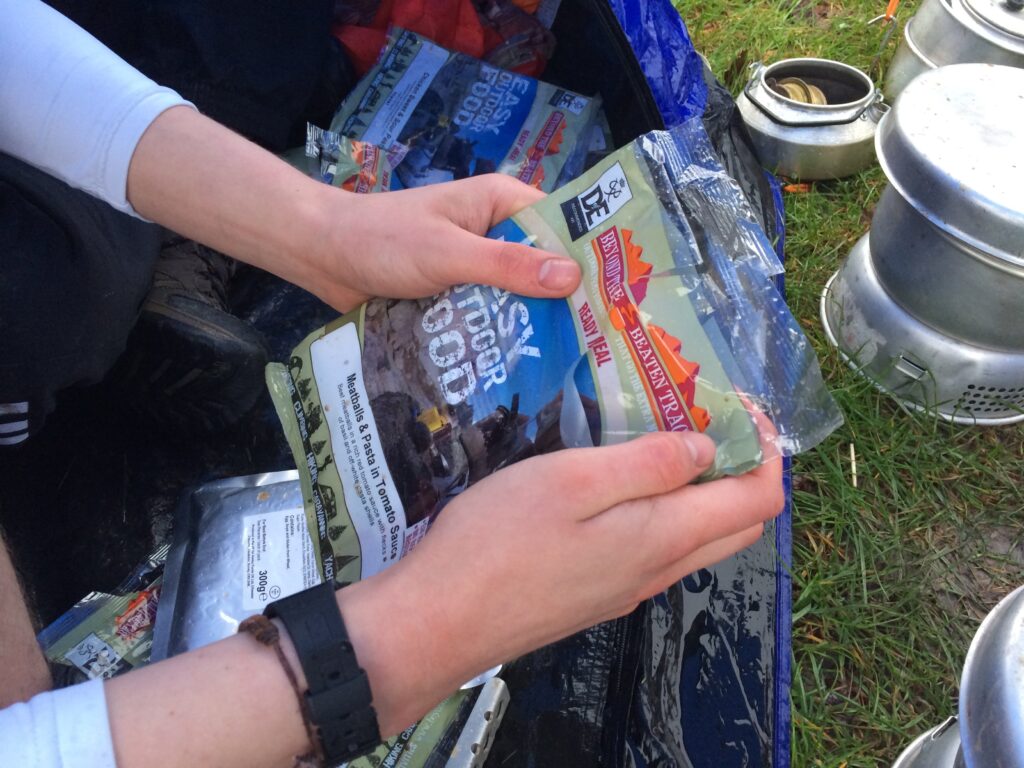 Snacks!
You need to keep eating all day! They can keep your spirits high and help with your energy levels too. When buying snacks, make sure you actually like them, there's no point taking food you won't enjoy. Here is just a short list of good snacks:
Cereal bars
Nuts and dried fruit
Jelly cubes – weird one, but they are actually a great way to give you more energy, and they taste great too!
Sweets
Energy gels and bars
Squash – the super concentrated ones in small bottles!
Some of our favourite snacks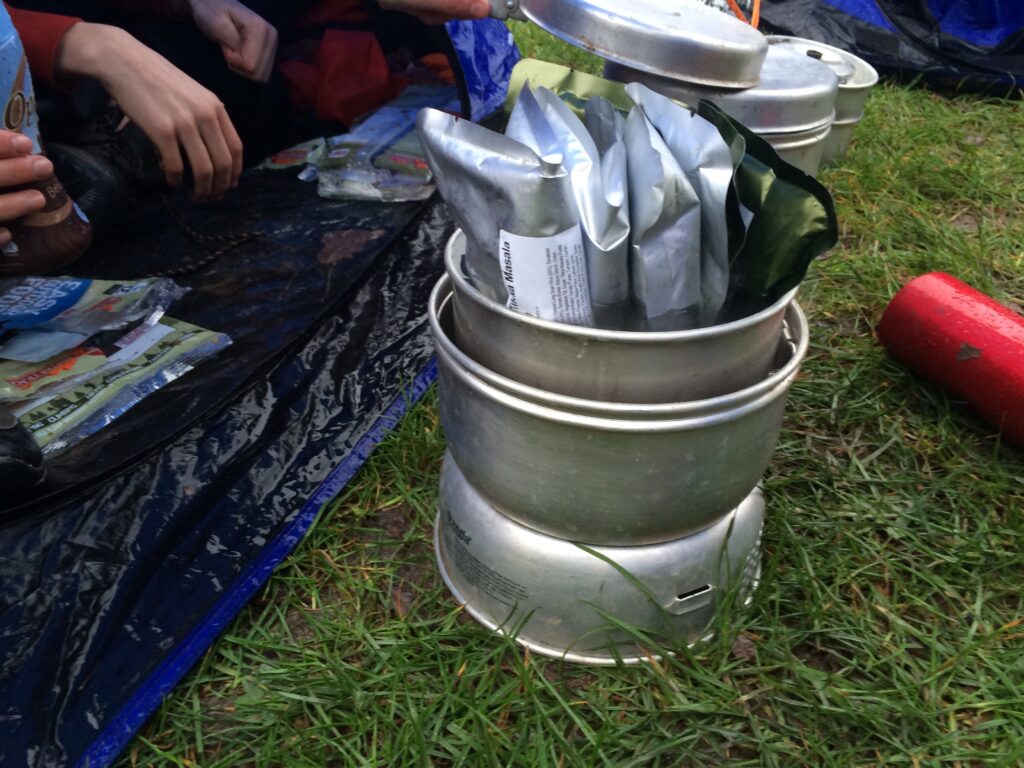 Expedition Meals
Expedition meals can be a really good way to get a good hearty meal, whilst being quick and easy. There are two types of meals: ready to eat and dehydrated. There is such a large range of expedition meals available, with something for everyone (even dietary allergies). They are high calorie and are great for refuelling your body.
We recommend talking to your DofE leaders if you think expedition meals are something your team would like to try. With our groups, we tend to suggest that Bronze groups should try cooking from scratch, but Silver and Gold can use a mix of cooking and expedition meals.
Over the years we have tried and tested every expedition meal brand under the sun!! We now only stock the brands that use the most natural ingredients and that taste the best, because at the end of the day you don't want to eat something that tastes like soggy cardboard.
Our favourite brands are Fire Pot, Bla Band, Extreme Food and Wayfayrer. You can check out the full range here!
Here's some of our favourite expedition meals
Hopefully, this gives you some new tips and ideas for your up coming expeditions. And you can learn from my experiences too! Let us know how you get on during your D of E expedition with #ProjectXDofE
Originally posted – 20th March 2017 | Content Updated – 3rd March 2021