Group catering may seem daunting, but with a few tips, it can be quite easy and enjoyable!!
1- Plan Ahead
Know the dates, meal timings, locations and the number of people you are catering for. You need to know well in advance if people have any dietary requirements, this way you can have some time to plan a menu everyone can eat. Keeping your menu simple is also key, know exactly what you are going to put in every meal – especially when deities come into it – the last thing you want to do on a group adventure is accidentally make someone ill. This would save you the need to cook multiple meals for different people. Use recipes to help you with estimating quantities and always round up the number you are catering for to ensure you definitely have enough food. Also, think about the activities that you are doing – a group spending a day out in the hills will want to eat more food than you might think!
Once you have the menu sorted for your trip, you need to plan what equipment you need to pull it off easily.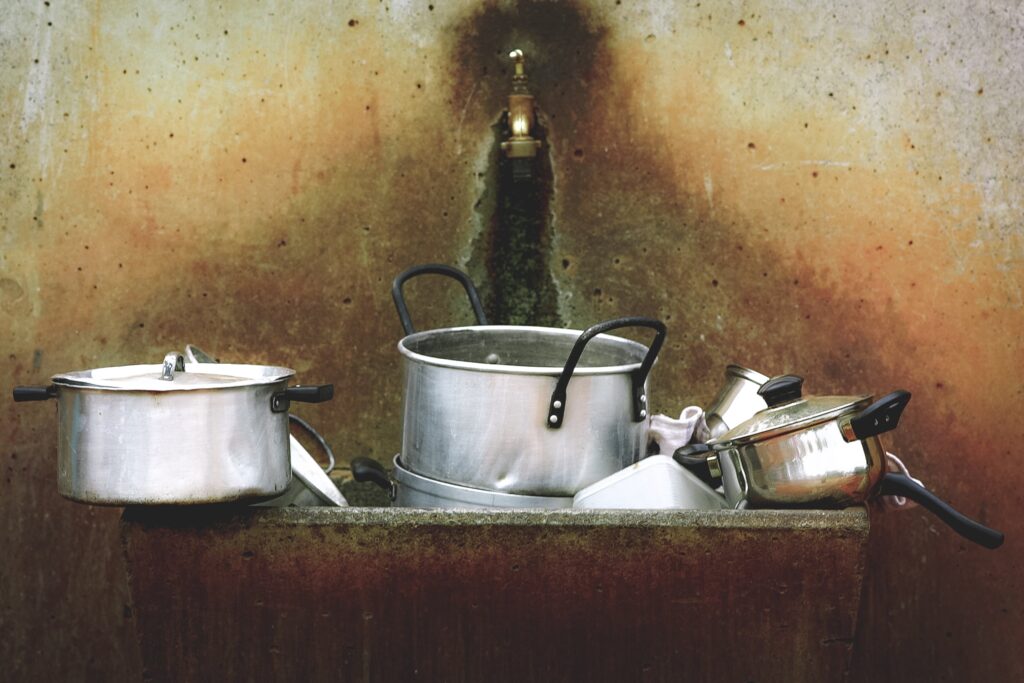 2- Equipment
Do your research before the trip. It's a good idea to contact the venue for your trip and have a chat. Work out what equipment they have that you can use.
If you are camping, you should know the campsites regulations for campfires and gas cooking to ensure you have a safe field kitchen. You also need to work out how to refrigerate your food. Ask the campsite if they have a fridge you could use. You could take your own cool boxes or gas powered fridge or buy your food as you go – these are good ways of keeping food fresh and safe to eat.
If you are staying in a building, confirm if there are sufficient facilities. Fridge, stove, oven, pots/pans, utensils, crockery and cutlery should all be checked, you can always take your own equipment to make your life easier.
3- Shopping
Try not to leave this to the last minute to ensure you don't forget anything and to avoid the disappointment of products being out of stock. Our favourite way of organising shopping is to order online. Get it delivered to the campsite or building a couple of hours after you are due to arrive. This way you can start your shopping list online as soon as you have planned your menu and quantities. A top tip though – make sure your campsite has mobile phone signal! We once had a problem where the driver wasn't able to find us and couldn't contact us, so he took the food back to the depot again! Not useful!
4- Preparation
If you don't want to spend all day cooking, you could do some simple things before you leave to save time. Prepare all your vegetables – this will save you having to spend time peeling veg, chopping etc. Store in air-tight containers in the fridge. Prepare all your meat or you could buy already cubed meat. It may be a little more expensive, but it will definitely save you time! You could even cook your main meals before you go away and freeze them in bags or tubs to keep them fresh (you can then let them thaw in a coolbox, and they should take a day or so to defrost – so you won't need a fridge!)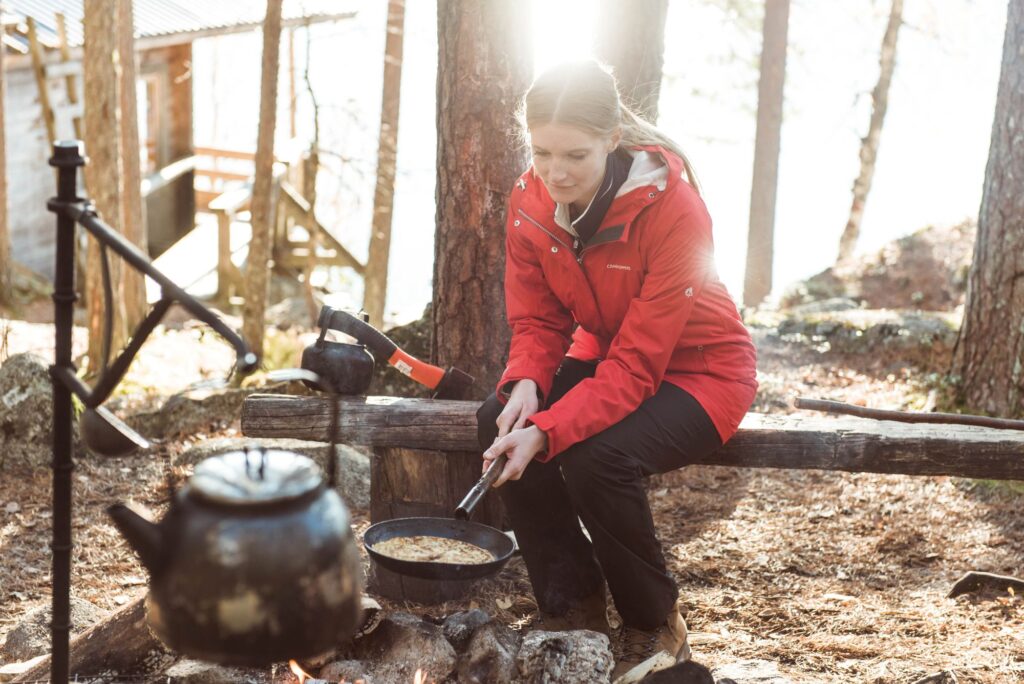 5- Teamwork
Ask for help! Especially if you are taking scouts or other youth groups away. It's a brilliant opportunity for them to help and learn some skills, but also relieves you of some of the pressure and hard work too! Try having duty patrol or team, use a rota system to make sure everyone gets stuck in to help. They could also lay out the tables, help you chop ingredients, keeping an eye and stirring pans and even wash up too.
Our Experience
Once a year our Scout Group goes away on a 'Group Camp'. This is when all sections attend a big camp, we often do a mix of section and group activities to build friendships across all of the sections. These camps are pretty big, and usually, I end up cooking for up to 150 people for the whole weekend (along with looking after both of my Beaver Colonies too!) So I try to make my life as simple as possible!
When I plan the menu, I always think about who is going to be around to help, and also what activities will be going on during the day. Ensuring there is always a duty patrol to help set tables, serve the food and help wash up.
The toughest meal to prepare on our camps is the main meal at the end of the day – we all have a busy day off adventuring and doing awesome activities, by the time we are done for the afternoon, it's nearly dinner time. My go dinners are usually pasta bolognese/chilli con carne/chicken curry. The great thing about these choices are they are usually favourites with the scouts (so they'll eat them!) but also you can prepare them in advance.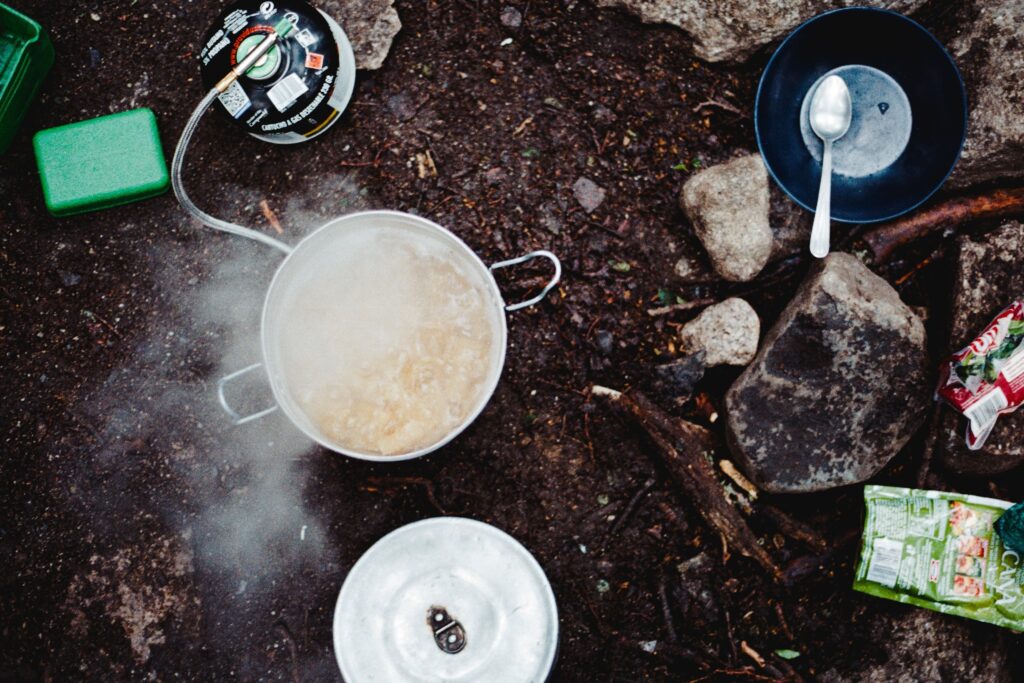 Cooking for a lot of people takes time – I almost always spend a day, maybe a week or two before camp, cooking the main meals. I tub or bag them and freeze them. There are a few reasons why I do this:
It saves so much time on camp – once they have defrosted, all you have to do is reheat!
You can take them out of the freezer and put them into coolboxes when you are leaving – they will slowly defrost, but keep themselves fresh – so they don't need to be refrigerated.
The hardest thing left to do is cook some pasta, rice or potatoes to go with it.
You keep the kitchen tidier – you won't create a mess preparing vegetables etc!
You can relax, knowing most of the hard work is done!
I hope these tips and advice for Group Catering helps you on your next adventure! If there is anything you could add or need help with, comment below.
Happy Adventuring,
Katie