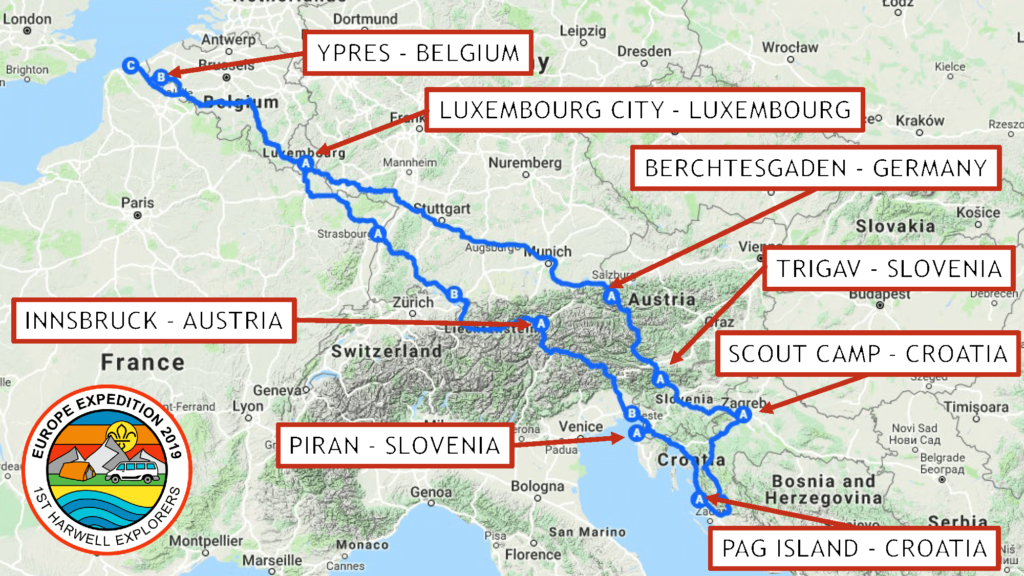 This year we took our own Explorer Scouts away on an expedition throughout Europe for two weeks. We planned an exciting road trip taking us through cities, mountains, beaches, and lakes.
Innsbruck, Austria
Our first stop along our trip was Innsbruck, Austria – with an overnight in Strasbourg, France along the way! We had a few nights here to explore. Staying in a little local Scout camp in the middle of the Winter Olympic Bobsleigh track. We were totally surrounded by mountains – not that we could really see, due to the rain and clouds we were greeted with! During our stay in Innsbruck, we had a brief explore around the city, rode a funicular halfway up a mountain to a viewpoint, visited the Olympic Ski Jump – for another rather high-up view from the other side of the city. Eventually, the cloud began to lift and we could see the mountains surrounding us too!
From Innsbruck, we packed up camp early in the morning and headed to Trieste, Italy. We had an early start to reach the airport in good time to pick up two more members of the team who were meeting us there. Having picked up these members of the team, it was time to head to the next campsite. We wound up some tiny cliff roads to this tiny campsite with a stunning view over Trieste and the ocean. It was a nice change, getting out of the vans to warm sunshine compared to the rainy and cloudy Innsbruck we had left behind.
Trieste, Italy
We ended up with possibly the smallest camping pitch on the whole site, so squeezing 15 tents and a mess tent was a little tricky, especially in the hot sun. After playing the largest game of Tetris I think I have ever played, it was time to relax, the ukulele came out and dinner started to be cooked.
We had a couple of nights in Trieste, so after a relaxing evening, it was time to get exploring. We headed across the Slovenian border to Piran, a small coastal town. We spent the day exploring the maze of side streets, soaking up the sun and culture, eating lots of ice cream and taking lots of photos. We visited the towns historical walls, a few of the most historic churches and climbed the clock tower for a stunning view of the sea of orange roofs and the blue ocean. After a hot and busy day, we stopped by a 5* hotel to pick up our minibus and van – they kindly let us park there for the day after finding it impossible to park anywhere. They ended up letting us all in onto their rooftop terrace for a cold drink before we headed back to Trieste. In the evening, we bumped into some Italian Scouts passing the campsite and got chatting and made some friends – it's always great how Scouting can bring people together.
Pag Island, Croatia
The following day, it was time to head further south, to Croatia. We packed up camp, squeezed everything into the vans and headed to Pag Island, Croatia. This was one of the shortest drives of the trips, but it was packed with stunning views of the ocean, mountains and coastal towns. We arrived at the campsite and couldn't have been happier – we had a pitch right on the beachfront! With the tents overlooking the rocks and ocean – bliss! Our time in Croatia was all about rest and relaxation – the first and last part of the trip was all about being fast-paced, lots of packing and unpacking, so this middle section was all about having fun and chilling in the sun.
We had 3 nights here, so we spent the days on the beach, ate lots and lots of ice cream. We had a great time at the aqua park. Everyone did their own thing and there was no pressure to do anything and be anywhere for a certain time. After a very relaxing few days, on our final night, we were greeted by the storm of all storms! As we all sat down to eat our dinner the heavens opened and we rushed into the minibus to finish eating before we all worked together to get the kitchen packed away before it blew away!
Bled, Slovenia
By the morning, it was like nothing had happened, we had to clean all of our kitchen kit and repack it all properly before packing away the rest of camp and heading onto our next destination – Lake Bled, Slovenia. Heading away from the beach back into the mountains, we headed straight to a Scout campsite for one night. The drive took us a little longer than expected, so we arrived and quickly set up our tents and cooked up some expedition meals for a quick dinner. In the morning we packed up camp and headed to the next lake along and set up camp at our campsite for the next two nights. After we headed into Ljubljana for the afternoon, we took the funicular up to the castle and spent a few hours exploring and learning all about the castles of Slovenia. Eventually, it was time to head to the airport, this time to pick up two more leaders – now our team was complete! We headed back to the campsite for a swim in the onsite lake and the ukulele made another appearance.
The following day, and our final day in Slovenia, we visited Vintgar Gorge, one of Slovenia's most treasured natural sights. We spent the whole morning walking along the wooden paths, weaving across the river and waterfalls, admiring the stunning scenery. After a beautiful morning immersed in nature, we headed back to the campsite for an afternoon of fun in the campsite lake.
Salzburg, Austria
It was time to pack up our camp and vans and head onto our next destination – Salzburg, Austria. Our drive was quite quick, we left very early in the morning – with very little idea why! We had booked some mystery activities for when we arrived in the morning. As soon as we arrived, we headed to the Salt mines in Berchtesgaden. We were taken on a tour through the mountain on a train, showing us how they mine for salt. We got to go on the miner's slides and even went on a boat ride inside the mountain. After the Salt mine, we still had one more mystery, The Eagles Nest. We headed to the carpark and a coach. After a rather windy bus journey up a mountain, we arrived at the Eagles Nest – Hitler's Tearoom during the war, where he met to plan. We arrived to a dark tunnel, at the end of the tunnel was a golden elevator which opened up to the view of the Berchtesgaden National Park. We spent a few hours walking around the top of the mountain, soaking up the stunning views of mountains and lakes and of course had a cup of tea!
After a long morning, it was time to head to our stay for the night. This time we were staying a local Scout group's hut in Salzburg. The whole group had a sigh of relief when we realised we wouldn't be putting up tents or setting up the kitchen for the night! We had two halls for everyone to sleep in, a dining room, a kitchen, and a SHOWER!!
The following morning we a relatively slow start, we jumped on a bus and headed into the city to explore before it was time for a Segway tour! The group took it in turns, half of the group went on the tour whilst the other half went for coffee, ice cream, and the all-important souvenir shopping before switching. We then headed back to the hut, had dinner and packed away our things and the vans. The drivers disappeared off for a few hours sleep whilst everyone was busy packing, cooking and cleaning. Then it was time for the night drive to Luxembourg.
Luxembourg
After setting off around 10 pm, we made a great start to the long journey. This night drive was one of the longest drives of the whole trip, so we were taking it very easy, with little pressure to arrive in Luxembourg for any particular time. We ended up having a few longer stops that allowed everyone to get a few hours of more peaceful rest before heading off again. We reached Luxembourg early morning and were in Luxembourg City by 9 am. We quickly set up our tents, made our beds and all headed to bed for a couple of hours of rest before starting the day properly.
Once we were all awake and ready to go, we hopped on the bus and headed into Luxembourg City. One of our Explorers (her Dad lives there for work and visits regularly) took us on a whilst-stop tour, showing us all of the major sights before heading to the town square for a nice cool drink and a sit down. That evening, we invited our Explorer's Dad over for dinner at our campsite, he used to be our Group Chairman and heavily involved in everything our group does. So it was really great to have him over and have our Explorers cook him a meal, and have a catch-up. Of course, the ukulele made an appearance too!
Ypres, Belgium
By the morning, it was time to pack up our camp once again and head off to our final destination before heading home. We were heading for Ypres, Belgium. On our way to Strasbourg on the first day, we made a slight detour to drop off our smart uniform and shoes for safekeeping at one of our family member's homes nearby to Ypres. So we swung by our family to pick up our uniform and headed into Ypres town centre for lunch.
Ypres is a rather significant town in Belgium from during the First World War, the front line ran straight through the area – Flanders. In Ypres, there is the Menem Gate, which was built by the Imperial War Graves Commission to commemorate the missing of the Ypres Salient. This gate is the largest of all the gates built in the area and commemorates more than 54,000 officers and men from Canada, Australia, undivided India and South Africa, and those from the United Kingdom who died before 16th August 1917 and have no graves. To finish our final evening of camp, we were going to participate in the Last Post at the Menem Gate. The Last Post service takes place every single day of the year at 8pm, and different charities, organisations and people can take part.
After lunch, we visited the In Flanders Fields Museum to learn more about the area we were staying and the significance of what we were to be taking part in that evening. It was a really interesting museum and I don't think there was one of us that left the museum without a different outlook on the First World War and how it affected the area we were staying in.
It was soon time to head to our final campsite, we set up our tents one last time. We organised our uniforms – the campsite manager's wife kindly lent us her iron and ironing board, so we took it in turns to iron our shirts and neckers, we all shone our shoes and made sure we all looked as smart as we could. The Explorers worked together to write a short message on our wreath which we laid during the service. We then headed back into Ypres for the service. We arrived a little early, and all of the Explorers were a little confused, but there was good reason! We had some different awards to give out, along with investing two new members of the Unit too. After the formalities, we headed into the gate, our three representatives headed off to meet with the organisers, one with the flag and two with our wreath, whilst the rest of us waited and watched in the crowd. Until 5 minutes before the service was due to begin, when the organiser came over to us and asked if we would like line the walkway up to where the wreaths would be laid – every Explorer stood with pride during the service. It definitely was a special way to end our trip.
After the service, we waited around for the crowds to leave and posed for some group photos and wandered around the gate looking at all of the names engraved, before heading off to a small pizzeria just around the corner for our last dinner.
The next morning was very relaxed. Our ferry home wasn't until the afternoon, so we had time to make sure all of our tents were put away dry and all of the other kit was clean and packed ready for quick unpacking when we arrived home.
We left to head to the ferry terminal, but within 20 minutes we were in the middle of a Belgium trading estate pulling up at the side of the road, all looking rather confused at George. He had found online, an unearthed First World War trench – Yorkshire Trench and Dug Out. Few examples of these trench systems still exist 100 years on. This trench was lost for many years but rediscovered and the trench lines have now been recreated – it was excavated by a group of amateur Belgian archaeologists, who started working on unearthing it as early as 1992 but the majority of the work took place in 1998. It was a really surreal experience to be in the middle of a busy and bustling trading estate, yet wandering through a trench that 100 years ago would have been a very different picture.
It was soon time to carry on our journey to the ferry, but we had one more stop first! You can't leave Continental Europe without a trip to the Hyper-Market, so we all piled out of the vans and stocked up on all of the essentials – Haribo, chocolate, sweets, croissants, cheese, biscuits – oh and gluten-free goodies (they have some really great stuff over there!) Then it really was time to head to the ferry. We were a little concerned about the wind, so we got there in good time. Unfortunately, our ferry was "delayed by at least 2 hours". We arrived by 14:30 for our 16:00 ferry… We eventually boarded our ferry at 20:30! Such fun! Fortunately for us, we made the time fly by. The ukulele came out almost instantly, we had a "Disney Power Hour" that lasted at least 2 hours, some of us watched Shrek, we played cards, we napped and we had a few rounds of the Lonely Planet Ultimate Travel Quiz – this book kills so much time! We had walkie talkies throughout our vehicles and split into teams. Really great to get everyone talking and involved in something on long drives – 10/10 recommend for any road trip!
After a long old wait, we finally got on our ferry, we found ourselves a comfy spot and settled down for a rather wavy ride. The cafe we were sat by kindly filled our last expedition meals up with hot water, so we sat and ate as we came into port before bundling back into the vans one last time and heading back to Oxfordshire. We arrived back at our Scout Hut in the early hour's thanks to our wind delays, but that didn't faze us. The team pulled together to unpack all of our kit, clean the vans out and finish on a high note!
We hope you have all had a great summer too! We've had one we certainly won't be forgetting anytime soon.
Happy Adventuring,
Katie and the Project X Team