Recently I took myself and my mum off on a spontaneous mother-daughter adventure to Greece, specifically the North of Corfú, an island just off the coast where Albania meets Greece. To explore Angelokastro, Paleokastritsa, Sidari, Kassiopi and Corfú Old Town.
We had four days clear on our calendars to plan an adventure (and a little R&R!), with no real destination. Looking at flights, we wanted to be able to arrive somewhere by lunchtime on Sunday and leave around dinner time on Wednesday. Looking through our flight options on Skyscanner, we found the perfect flights to Corfú .
So planning our adventure, we had no clue about Corfú, my first thoughts were Kavos, the party central of the island. But the more I researched, I found that the north of the island has a more relaxed atmosphere, just waiting to be explored! I bought myself a Marco Polo Travel Guidebook, which is full of tips and insights into your destination (now I'm back to Project X HQ, my next job is to add these guidebooks to our kit store pronto!) The guidebook comes with a handy roadmap, along with a small island map and Corfú town map. These maps were great for planning where to explore on this mini adventure.
After a lot of reading and googling, we realised we'd need to hire a car to really explore this island. This meant that booking an AirBnB was easy, we didn't need to find somewhere with transport links etc. Searching through AirBnB, we found a lovely little house in Gouvia Bay (just 20 minutes from the airport). With steps down to the beach and a whole host of Tavernas (traditional Greek restaurants) by the beach and in the village. It was a great central spot for exploring what this island really has to offer, from Paleokastritsa, Angelokastro, Sidari and Kassiopi.
Day One
London Stanstead
We left Oxford around 4 am, ready for our 8:30 am flight from London Stanstead to Corfú International. The flight was only 2 1/2 hours and it felt like it went much quicker than that! Before we knew it, we were flying over the Adriatic and approaching Greece. Once we landed, we swam through passport control and escaped the madness of baggage reclaim (we only took hand luggage!!). And within 15 minutes of landing, we'd picked up our car and were driving through Corfú Town, on our way to find our AirBnB in Gouvia.
Gouvia, Corfú
After a morning of travelling, we found a small Taverna on the beach, just 100m from our AirBnB to relax and enjoy the first of many Greek Salads! We spent the day on the beach, topping up on our tan and relaxing from the mayhem we left behind at home. In the evening, we wandered around the bay, to take in the dramatic sunset, before heading into the village to find some tasty food, and plan our adventures for the next day!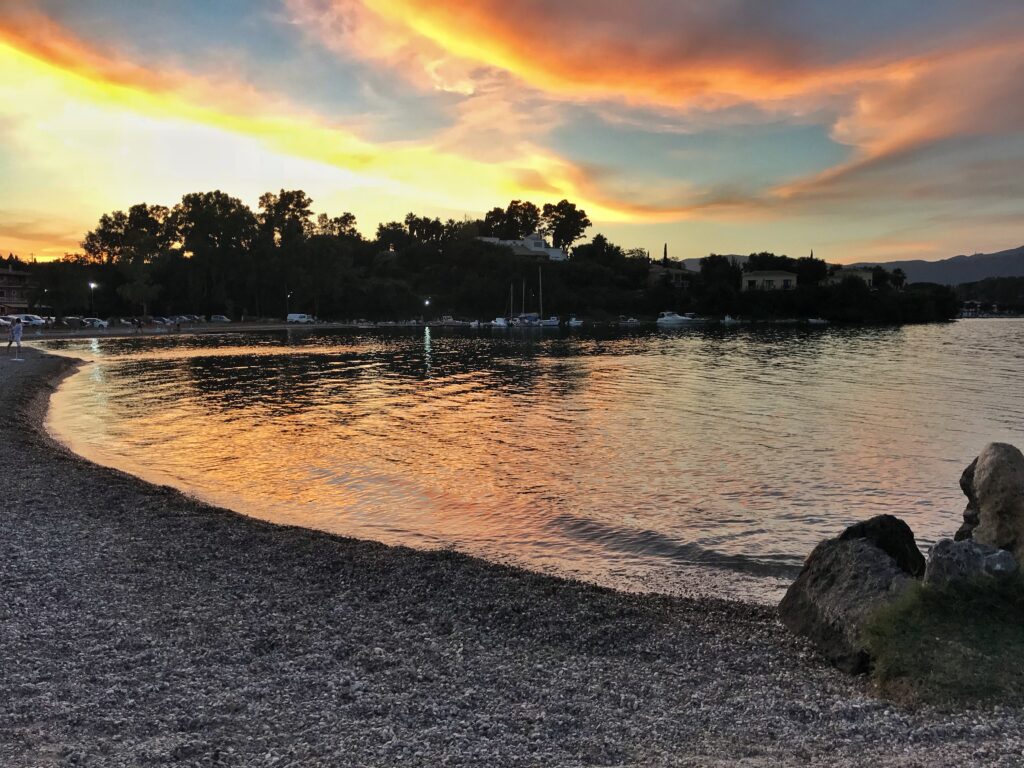 Day Two
Angelokastro, Corfú
We started our day leisurely, having some breakfast and coffee on our patio overlooking the bay. Then we were off to explore the north-west coast of Corfú!
First stop for the day was Angelokastro, the ruins of a Byzantine-Venetian Castle that stands high above the west coast. From Gouvia, it takes about 40 minutes, through mountainous and windy roads, arriving to a small carpark (around 2,300 ft up!) at the foot of the castle hill, with a small Taverna overlooking quite a dramatic landscape.
From the carpark, it looks like quite the climb to the mountain peak where the ruins lay, but in reality, you could walk to the top in a matter of minutes. It took us about 20 minutes to reach the ruins, only because the panoramic views were enough to stop us quite literally in our tracks! As you climb the stone steps up, in and out of the olive trees, you'll eventually reach a stone archway, into the ruins. I loved climbing through the rocks to get the best views of Paleokastritsa, our next stop, below. This castle is truly fascinating. Offering refuge to the population of northern Corfú when enemies or pirates approached, until the last Turkish invasion of the island in 1716. It is free to explore out of season, but in the summer it is open 8 am – 7 pm and will cost 2 euros per person.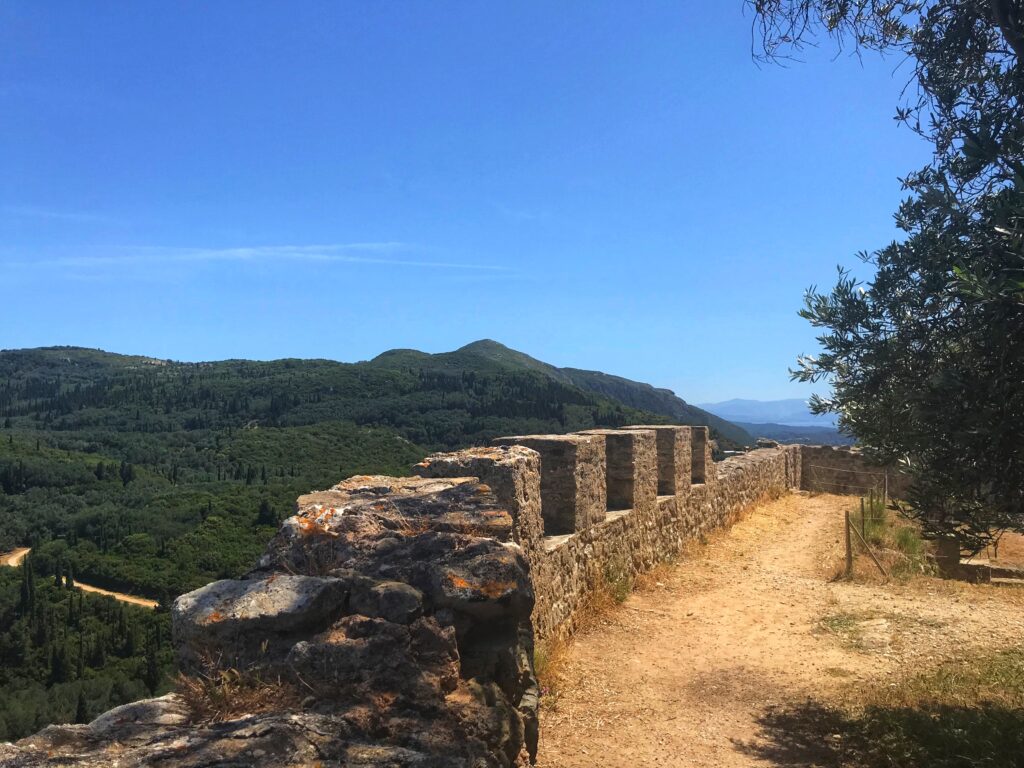 Paleokastritsa, Corfú
10km down the mountain roads (about 25 minutes drive), we reached Paleokastritsa, a small coastal village. Many Corfiots would name Paleokastritsa as one of the most beautiful places on Corfú. We found a large car park by Paleokastritsa beach, with a stunning Taverna right on the ocean front, with windows wide open, for an alfresco feel. Here we stopped for lunch, having one of the best Greek Ceaser Salads I have ever had, looking out to crystal clear waters!
We noticed whilst enjoying our lunch, there were boat trips taking place just down the beach. Having looked through our travel guide, we discovered that skippers stand all day long, waiting for visitors to arrive at this stunning beach. After Lunch, we went out for a 40-minute boat ride (only costing us 10 Euros each!), along the Paleokastritsa coast in and out of tiny coves and caves, that can only be reached by boat.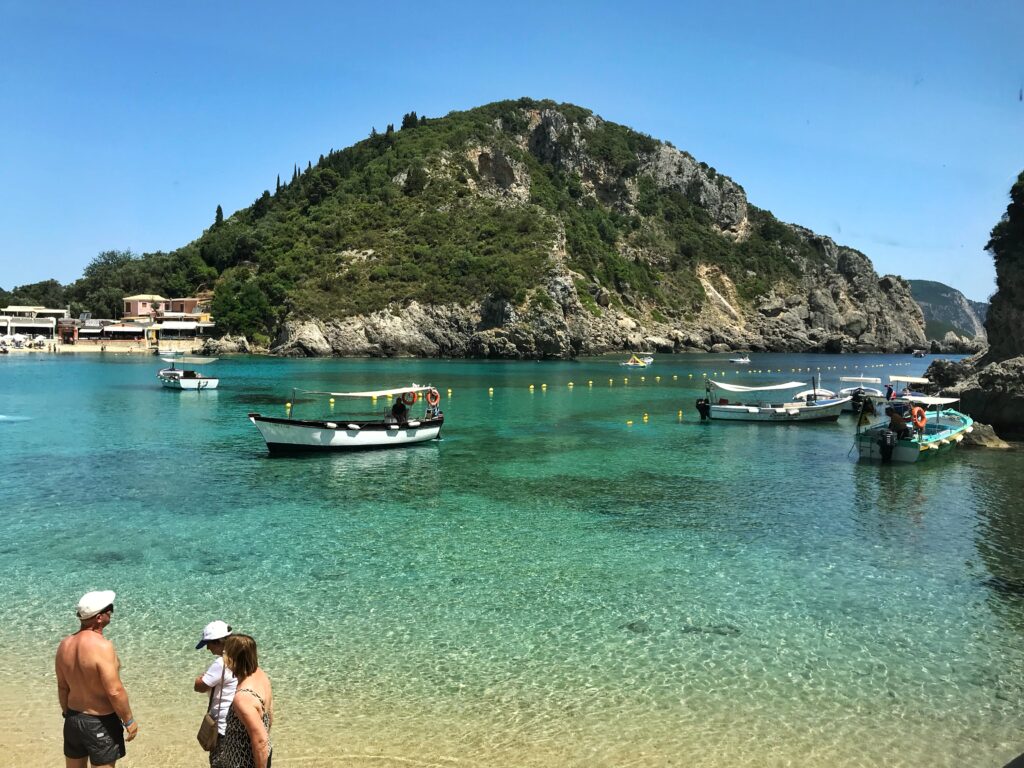 With crystal clear water, you can see the fish and rocks below, even further out to sea. They took us along to see Paleokastritsa's most famous attraction, Panagia Theotoku Tis Paleokastritsas Monastery. This monastery is perched high up on the headland in front of steep cliffs. With a fabulous view of this iconic monastery, we learnt that it was built in 1228 and its name translates to "The Holy Bearer of God of Paleokastritsa. Three Monks still live there to this day and is surrounded by an 18th-century courtyard full of flowers and olive trees.
After our boat trip, we decided it was time for some R&R. Along the beaches of Corfú, you'll find sun loungers and parasols which are available for use for a small cost.

Sidari, Corfú
We found our selves a great stop to sit and relax for an hour or so, planning our next stop but also soaking up the sunshine. Our next stop of the day was to drive north from Paleokastritsa. There are a few sights to see up there, but we chose to visit the Canal D'Amour and Sidari. After about an hours drive, we reached the small seaside village of Sidari. There is a lovely little walk around some coves to reach the Canal D'Amour. The Canal D'Amour is a low-lying rocky headland which projects out to sea. Old legends say that whoever swims through the canal will fall in love! After exploring the coves, a little walk around the corner you reach Sidari Beach, lined with sun loungers and beach bars. We grabbed ourselves an iced tea, found a good spot to sit relax. This beach is especially shallow, so it was perfect for walking through on our way around the bay.
Gouvia, Corfú
After a busy day exploring and relaxing, we headed back through the Corfú mountain roads, small villages and olive trees to Gouvia, only taking us about an hour. Here, we freshened up and found a Modern Greek Resturant, where we enjoyed the sunset through the olive trees, looking over the bay.
Day Three
Kassiopi, Corfú
We started our day leisurely again, making the most of the morning sunshine to relax in. We planned our day over breakfast and decided we'd drive further up the northeast coast and explore Kassiopi. Driving up the East coast, the coastal road offers stunning views of beaches and coves along with Albania across the ocean. After about an hour drive, we reach the stunning Kassiopi harbour. Here, we ended up taking a wrong turn from the carpark we were trying to find, where we ended up stumbling across Bateria Beach. Here we parked up, took in the view that was in front of us, and then walking along the road back towards Kassiopi, discovering little steps down to the rocks on our way.
Once we were in Kassiopi, we stopped for a quick Greek Frappe before heading off for a walk. From across the harbour, we notice people walking up, what looked like a cliff path over the hill, so we thought we would go and have an explore. As we walked up and around the cliff, we were surrounded by fig trees, with the view of the waves crashing against the rocks below. Suddenly we stumbled to the end of the path and found a hidden beach with just a handful of people sunbathing and swimming. The quietest beach we had seen so far! Here, we had a little more R&R (we really did need it!) before walking back to Kassiopi Harbour to find a Taverna for lunch.
After another mouth-watering lunch (and maybe a cocktail or two!), we looked through our travel guide and discovered another castle ruins opposite the Panagia Kassiopitra Church. We followed the path, which appeared to go nowhere. But, we persevered and discovered steps up to the castle gatehouse (which has been the only part of the castle to be restored!) Inside, there are more steps up to the gatehouse roof, with a beautiful view of the harbour and Kassiopi below. We then walked the perimeter of the castle walls, surrounded by the shade of olive trees, with the odd viewpoint out over the countryside and ocean. It was a great break from the heat of the day, whilst we stretched our legs. The castle was built by the Venetians in 1386 on top of the original remains of an old fortress.
Bateria Beach, Corfú
Once we made it back down the path into Kassiopi, we went for a little retail therapy in some of the traditional jewellery and olive product shops. Before we walked back to Bateria Beach for, you guessed it, a little more R&R! After relaxing in the sunshine for a few hours, it was time to cool off in the crystal clear waters before heading back to Gouvia to freshen up and find somewhere for dinner.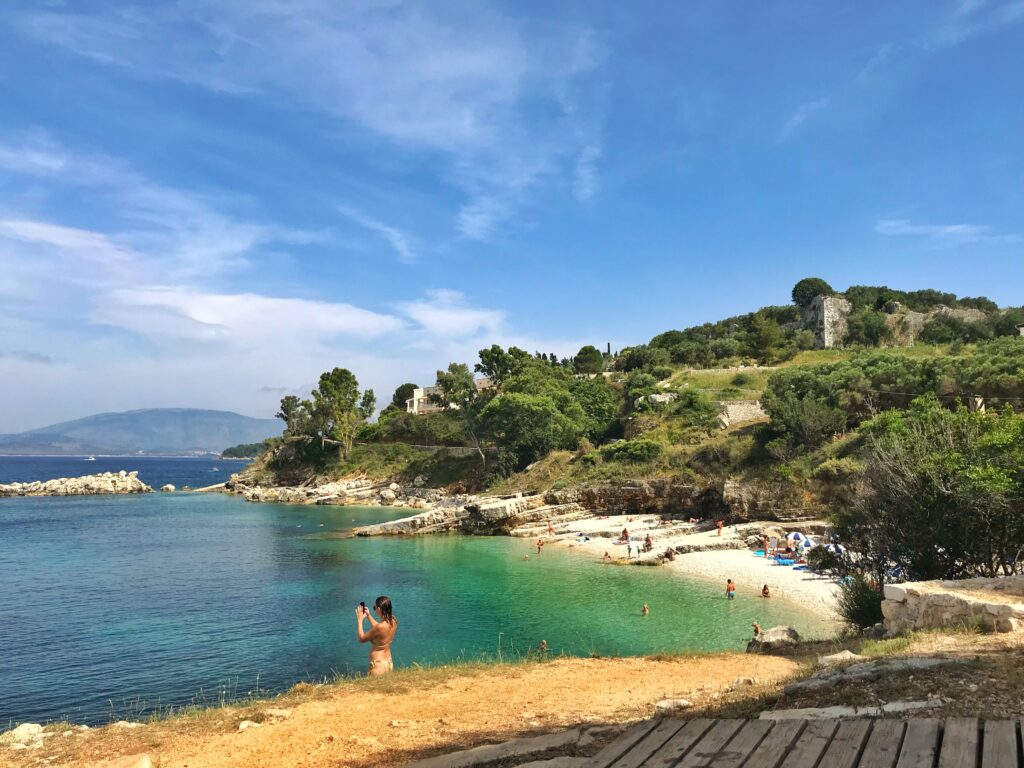 Gouvia, Corfú
We decided we'd branch out of Gouvia Bay towards Gouvia Marina, after walking about 20 minutes, we came across a couple of Tavernas in the Marina. Surrounded by glamourous Yachts, we enjoyed our final dinner in a very traditional Greek restaurant. As the sun came down, we wandered back through the small streets of the village, before heading back home.
Day Four
Corfú Town, Corfú
Our final day, we started slightly earlier, to get the most out of our shorter day before we headed to the airport. After packing and eating a quick breakfast on our patio, we headed to Corfú Town, ready to explore small and cobbled streets of the old town.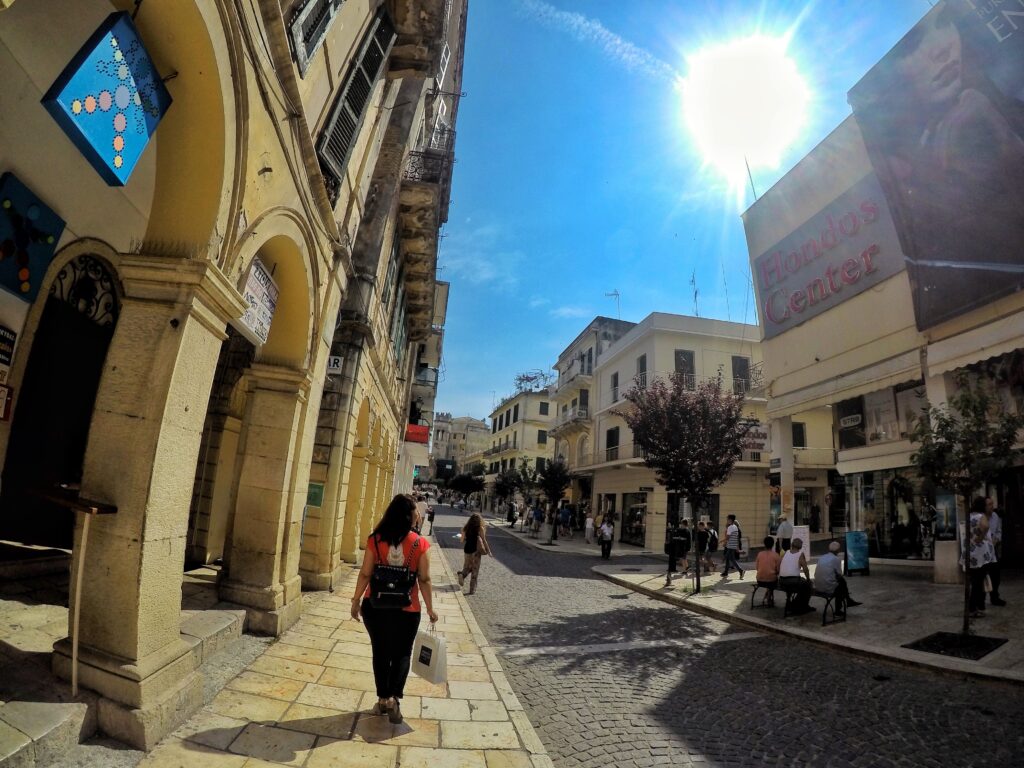 After the short, 20 minutes drive, we reached a secure car park just down the road from the New Venetian Fortress. We parked up for the day, only costing 5 Euros, were given a handy city map and headed towards the old town. Having not really planned where we'd go, we just walked! After walking through the tiny side streets for a little while, we stopped for a coffee and worked out what to do next.
We decided to explore the Old Fortress of Corfú Town, so we made our way there, paid entrance, and climbed to the top of the fort, to get a view of the Corfú Old Town. After quite and hot, but easy walk, we reached the top, to be totally speechless. The View over Corfú was totally stunning and well worth the climb! The Fort was built by the Venetians in the 15th century on the site of the former Byzantine castle. With a lot of history, from protecting the town from sieges to Nazi occupation during World War II. After exploring the Fortress, we needed some shade! So we went back into the old town streets, browsing the olive wood shops and jewellery.
After feeling like we had hardly explored Corfú Town, it was time to find the carpark again and get to the airport. Our adventure was over. We had a bit of a shaky flight home, and made it back to Oxford by 9 pm!